Slave's Grave in the Church Yard
Interest in the Slave's grave increased significantly during the first few months of 2007 as a result of the 200th anniversary of the abolition of the slave trade in Britain. Our local historian was approached to prepare an updated summary of the research material that is available to the community. The account presented here (on the right) is an updated version of that article provided for publication in the May 2007 edition of 'Warwickshire Life'. Following information received from Christine Eickelmann, this article was again revised in April 2008.
An article on the subject was published on Wednesday 21st. March 2007 in a supplement to The Guardian newspaper. The article can be found by following this link, (Please note that no responsibility is accepted for the contents of any site reached via links provided on this site for the convenience of the reader) or view a PDF version here. The originators of the article or those mentioned in the article did not seek local assistance in preparing the material presented.

The grave of Myrtilla, "negro slave of Mr Thomas Beauchamp of Nevis", which lies in the churchyard on the south-east side, is our most interesting ancient memorial. She died in 1705, and is described in the Burial Register as "a negro girl of Mrs Beauchamp's". There was once a footstone giving her age, which was recorded by the Rev. J. Harvey Bloom in 1910, a local clergyman and antiquarian, as reading "aetatis suae 72". This unlikely to be correct, given that she was described as a girl – unless of course the term is used, (as can sometimes be the case with "boy"), to denote a servant. Neither slave nor master lived very long on Nevis, where tetanus, malaria, or yellow fever brought a heavy death toll, and even in Oxhill seventy-two was an advanced age for the period. The Rev. Harvey Bloom did extensive surveys of Warwickshire churchyard inscriptions, but these were not always accurate. The lettering on the stones was probably very worn at the time, a fact reflected perhaps in Bloom's transcription of Myrtilla's name as "Myrtle". The headstone was professionally cleaned in 1969 to make the inscription more readable, while in the 1970s all the footstones in the churchyard were moved to make mowing easier, and now stand against the churchyard fence. Unfortunately, it has not been possible to identify the footstone that came from Myrtilla's grave to check its wording.

Thomas Beauchamp's wife Perletta was believed to be one of the twin daughters of the Rector of Oxhill, Nicholas Meese. Her twin sister was called Margaretta also meaning a pearl. (Were they so named as the two pearls in an oyster?). Thomas and Perletta Beauchamp had four children while in Oxhill, and one, Margaretta Perletta, named after both twins, sadly died aged 4, and lies buried in front of the altar, near the Meese family graves. However, until fairly recently nothing was known of Thomas Beauchamp himself and his connection with the Caribbean island of Nevis, although it seemed reasonable to guess that he was a sugar planter in this newly thriving colony. The Beauchamps were a local family and had in earlier centuries held Warwick Castle.
In 2003 we were fortunate enough to have been contacted through the Oxhill website by Christine Eickelmann, an independent researcher from Bristol who with her husband David Small is researching the history of Mountravers, a sugar plantation on Nevis owned by the Pinney family of Bristol, particularly focusing on the structure of the plantation and the lives of its enslaved people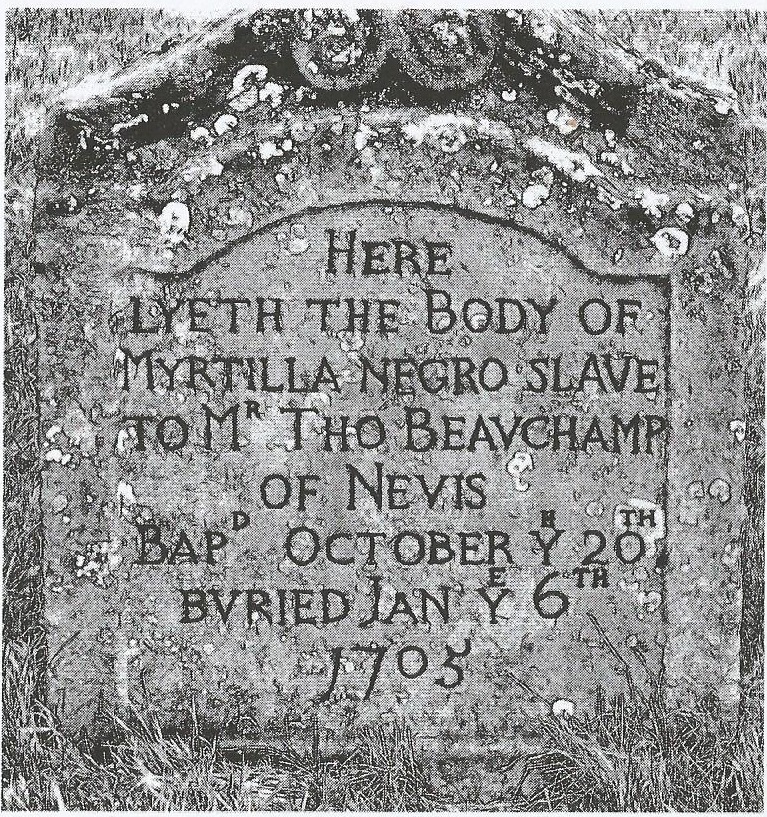 From her knowledge of Nevis documents, Christine was able to confirm the presence on Nevis of Beauchamps in the early eighteenth century, and in particular has found a reference in a will of 1720 to a Thomas Beauchamp, in connection with a share of land at Saddle Hill, and secondly a reference to a deed of 1744 whereby a plantation of 58 acres was sold by two widows, Mary Sargent, and Elizabeth Brodbelt, the latter described as "widow of George Brodbelt, planter, and also of Tho. Beauchamp the Yr, decd".
Family names were often repeated down the generations, but it is tempting to think that the Thomas Beauchamp mentioned in the 1720 document could have been Myrtilla's owner - the "Mr Tho Beauchamp of Nevis" of her tombstone inscription - and that Thomas Beauchamp the Younger could be his son Thomas, christened in Oxhill Church on 8th March 1705. If this is so, Thomas the Younger must have died a very young man, as his widow Elizabeth Beauchamp married George Broadbelt (as his surname is more usually spelt) on 13th August 1730.
It has been very pleasing to have some confirmation from the Nevis documents of the presence of the Beauchamps on the island and to shed some light on the Caribbean end of Myrtilla's story.
The Slave's Grave is situated on the south-east side of the Church, and having been restored in 1969 is now easily readable.
Here lyeth the body of Myrtilla, negro slave to Mr Thos Beauchamp of Nevis. Bapt. Oct. ye 20th. Buried Jan ye 6th, 1705.
Mr Thomas Beauchamp of Nevis is believed to have been a sugar planter, but when or why he came to Oxhill is not known. He is believed to have married one of the twin daughters of the Rector of Oxhill, Nicholas Meese, although no record of this marriage has as yet been found. However, Nicholas and his wife Jane had twin daughters baptised in May 1677, named Margaretta and Perletta. These names are comparatively unusual and occur at no other time in the registers. However, Margaretta Perletta, infant daughter of Mr Thomas Beauchamp and his wife Perletta, was baptised in June 1706 and buried 1710. Of Perletta's twin sister no more is known, but it would seem to be a reasonable assumption that Perletta Beauchamp was in fact the daughter of Nicholas Meese, the more particularly as her infant daughters' memorial stab is in the chancel alongside slabs to other members of the Meese family
Four children were born to Thomas Beauchamp and his wife whilst they were in Oxhill - Thomas, baptised March 8th, 1705, Margaretta Perletta (see above), Robert, baptised September 11th, 1711, and Letitia, baptised October 1714. This is the last entry relating to this particular family in Oxhill, and extensive enquiries elsewhere have elicited no further information.
The parish records note the baptism and burial of the negro slave, Myrtilla, e. g. "buried today a negro girl belonging to Mrs Beauchamp". There is also the baptism of one Will Archus "an adult male black" recorded for the year 1700, and in the registers for the parish of Idlicote, Jan. 1st, 1690, the baptism by Nicholas Meese of a negro girl "belonging to ye Lady Underhill" (Margaret Lucy). As Nicholas Meese was Rector of both Oxhill and Idlicote at that time, it is possible that Mr Beauchamp either gave or sold Margaret Lucy to Lady Underhill.
However, as he obviously ensured that all three slaves were properly baptised and that Myrtilla was decently buried, with a headstone to mark her grave, we may perhaps assume that he was not an unkind master. How a girl from the sunny Leeward Islands would view Oxhill in the early 18th century cannot be imagined. There is no evidence as to the cause of her death. It may well have been that she was unable to stand the rigours of our climate.
The text below that previously appeared on this page is based on original material by Betty Smith whose rights are fully acknowledged. Copies of the booklet on Oxhill (currently out of print), are normally on sale in the Church and are in the Warwick Record Office and Warwick Reference Library. The text is retained on the left for reference purpose.
Any further information that anybody would care to provide that is supported by research and referenced to original material will be gratefully received and added to this site. Please make contact with the historian@oxhill.org.uk