(originally published - July 2009)
Oxhill Wake was a small fair, and a major village event, traditionally connected with the Feast Day of St Lawrence, our church's patron saint. It was not, latterly anyway, held on the actual festival, August 10th but on the last Monday in August. (This is borne out by the splendid poster for the Wake recently discovered by Tim Groves, when the date advertised is Monday, August 25th, 1930) It could be that over time it had been altered to fit in more easily with the work of harvest. Oxhill men all had a holiday from farmwork on Wake Day – (though not, Bert Bloxham still regrets, those like himself who worked in Oxhill but lived in Tysoe!)
The site of the Wake has moved around. During the First World War it was held in the blacksmith's William Gilks's orchard, now the Gardners' field in Main Street. Allen Lewis, (who attended Oxhill School from Leasowes' Farm), remembers that in the 1920s it took place in a field at the lower end of Whatcote Road, where Silverdale and Northside now stand. Bill Heritage recalls it in the 1930s in the field opposite the Church, which was called the Green, (from which the name Green Lane was later coined). The marquee for the teas and later for dancing was opposite on the site of Cornerways.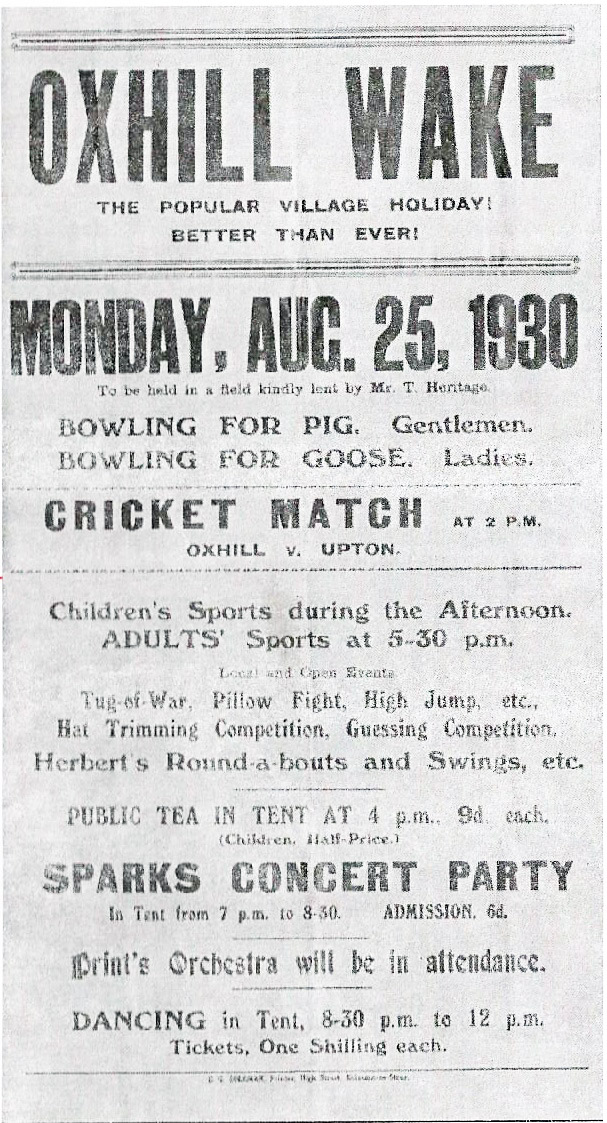 The swings and roundabouts and coconut shies were provided by Herberts' funfair, a family run outfit of at least three generations, which came each year from Redditch for several weeks, setting up base at Tysoe, in a field called the Slinket. Besides operating at the Oxhill Wake, they would also open some evenings in Tysoe during their stay. All the roundabouts were driven by steam, but Bert, as a young man, didn't think much of them as the horses didn't "gallop" (i.e go up and down). Bill Heritage remembers that the last time the Wake was held – in or near wartime – they used old converted buses to provide power instead.
Tim Groves's poster mentions "Sparks Concert Party", and "Prints Orchestra", presumably for the evening entertainment and dancing. That followed on from the Bowling for the Pig (Gentlemen), Bowling for the Goose (Ladies), Adults and Children's Sports, Tug of War, Pillow Fight, High Jump, Hat-trimming competition, Public Tea etc. Perhaps - after all that - one day's holiday wasn't enough!
Ann Hale
July, 2009